Professional Portable or Stationary HVLP Airbrush Sunless Spray On Tanning System with Overspray Eliminator and Two-Day training and Certification Course (Please scroll down for detailed pictures and individual component descriptions.)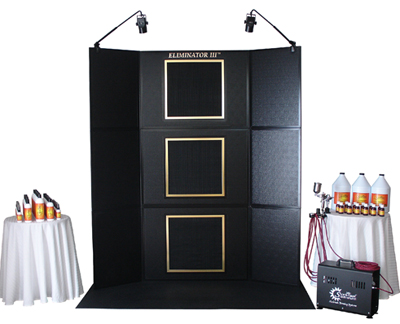 This portable, mobile HVLP tanning system features our newest of the Eliminator series over spray eliminators the "ELIMINATOR III TM" and our new Sun Spray 50 HVLP spray gun. This state-of-the-art system incorporates all the latest technology available in the industry today.
The entire system is engineered to be extremely portable without any sacrifice in performance. The "Eliminator III" breaks down into three, easy to carry, thirty-pound sections that come with their own ballistic nylon tote bags and clamp on halogen lighting. The entire system can be assembled or disassembled in ten minutes by one person and is truly portable. This portability will allow you to expand your business operations from your salon or spa right into customer's homes with ease. Tanning parties, wedding parties or any event that takes you on location is now possible without damaging the client's property or violating FDA regulations with the inhalation of over spray.
The compressor driven HVLP gun technology allows you to spray your clients quickly, quietly, and with the lowest solution usage of any system currently available while maintaining phenomenal control. Unlike noisy turbine systems that run continuously in excess of 80 decibels our entire system including the compressor and the over spray eliminator runs at 60 decibels. A normal conversation is 65 decibels. This allows you to keep your salon or day spa an aesthetically pleasing environment for everyone. For more information on the difference between turbine and compressor driven systems click here.
In addition to HVLP spray tanning, this system includes our gravity feed airbrush which in addition to being a back up gun allows you to do extremely fine body contouring, airbrush makeup, airbrush tattoos, body art, and airbrush nails all with the same equipment. It is the most versatile system available anywhere at any price.
All of our professional HVLP spray on, sunless tanning systems come with our training and certification course. This is two full days of hands on training and schooling here at our corporate headquarters in Virginia. This time is strictly dedicated to you and up to two of your employees insuring that each participant receives enough hands on training. For a detailed description of the training and syllabus click here. We also provide you with a customized marketing and operational cd rom that contains all the documents you will need to operate, and market your business. Client waivers, flyers, brochures, etc. will all be customized for you with your logo. If you don't have a logo, we can even design one for you. This will save you a ton of money in design and layout expenses as well as printing costs. Just another reason Scentual Sun is dedicated to being "your partner in success."
Note: Our stationary stainless steel "Eliminator II tm" may be substituted for the portable or stationary "Eliminator III tm" at additional cost.
The Eliminator III, our brand new portable or stationary, state of the art over spray removal system. Also available separately. Dismantles in minutes and features three thirty-pound folding sections with ballistic nylon carry bags anti-skid mat, and two telescoping, fully articulating, low voltage, halogen lights. Totally eliminates all the associated over spray from airbrush tanning. 110 volt, UL, FDA, and OSHA compliant. For a more detailed description of the Eliminator III click here.
| | |
| --- | --- |
| | The Sun Jet Professional Compressor. Twin Piston, 1/6 horsepower, whisper quiet, oil free, sealed bearing compressor. Produces full capacity air on demand (1.2 cfm open flow) and features auto and over heat shutoffs, 3.5 liter air tank, pressure regulator with moisture trap and gauge, tank pressure gauge, and protective outer case. This unit is the size of a briefcase and weighs only 27 pounds. 110 volt operation. |
| | The Sun Spray 50 HVLP/LVLP, gravity feed spray gun. Delivers superior atomization for minimizing solution usage and creating a "dry" spray. Working pressure from 13 to 95 psi. Fully adjustable spray pattern from a 6-inch horizontal or vertical fan to 1 inch round. Cast aluminum and stainless steel construction with quick disconnect fitting. Unlike bulky hard to handle turbo guns, it is incredibly light and fits comfortably in the palm of your hand. The 4-ounce stainless steel cup is more than enough to tan a large person with out refilling. |
| | The Revolution dual action airbrush features a gravity fed ¼ ounce cup and chrome plated ergonomic design. Perfect for body contouring, airbrush makeup, airbrush tattoos and airbrush nails. Also features a quick disconnect fitting. |
| | The 30 ft. remote regulator and hose assembly features two 15' high quality, 1/8 in., nylon braided air hoses with brass quick disconnect fittings. Regulator is adjustable from 0 – 100 psi. Includes a table mounted, clamp on built in airbrush/gun holder. This unit allows for remote location of the compressor and remote control of pressure adjustments without going back and forth to the compressor for makeup, nail art, and tattoos. |
Products Included:
Two gallons of Clear Base Formula 10% DHA
One gallon of Dark Tropical Formula 12% DHA
Twelve 2 oz. fragrances
Six each of our before and after care products.
Our unique color and fragrance customizable system allows you to customize the color for your clients skin tone and fragrance choice. Our fragrances may be added to all of our before and after care products as well. This unique one of a kind product line allows you to meet the needs of any client that comes through your door. Our products contain only FDA and globally approved ingredients and are of the highest quality available anywhere at any price.
Please call 888-326-9168 for pricing and availability.
Warning: This unit is designed for non-flammable over spray evacuation. Using flammable products of any kind in conjunction with this unit can result in an explosion causing serious injury or death. Please refer to the MSDS (Material Safety Data Sheet) or consult your products manufacturer.