Over Spray Overspray Fog Mist Remover for Airbrush Tanning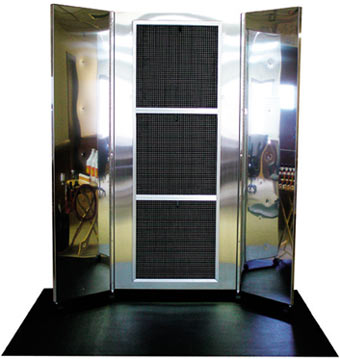 THE ELIMINATOR II TM by Scentual Sun opened & ready to use
Beautifully crafted out of bright-annealed, 304 brushed stainless steel with high polished 304 stainless steel interior doors, this unit is as impressive to look at as it is functional. Completely assembled with no outside ventilation required, using it is as simple as plugging it in and turning it on. Folding doors and casters allow for easy movement in and out of multi-use rooms. No more shower curtains on the wall, sticky floors, stained paint or unprofessional surroundings. Surveys of clients reveal that a professional, clean, aesthetically pleasing environment is as important as the results they receive from the service. So what are you waiting for, give your clients a day spa experience, keep your spray room clean, and protect your technician. For Information on our new portable mobile or stationary Eliminator III tm click here.
| | |
| --- | --- |
| | |
| Fully Enclosed Back Panel | Unit with Doors Closed |
Over spray eliminator, full body dryer and privacy screen all in one (see photos above). Casters allow for easy movement in multi-use rooms. No outside ventilation required. 3 industrial fan motors draw between 3,000 and 9000 CFM depending on speed selected. Electrostatic, lifetime washable filters slide in and out of rack eliminating the need for costly replacement filters. Filter frames and rack are made of brushed aluminum.
Easy to clean, solid 304 bright annealed brushed stainless steel construction with mirror polished stainless steel interior doors. In line auto reset ground fault circuit interrupter and rocker on/off switch. All components UL and OSHA approved. This unit will allow you to provide your service in a clean, safe FDA and OSHA approved environment.
Comes completely assembled and ready to use. Limited lifetime warranty on cabinet and two years on all electrical components. 36" W x 78 1/2" H x 11" D closed. 78 1/2" H x 72" W open. 290 lbs. Shipping via truck freight FOB Lynchburg, VA.
Note: This unit is hand assembled and due to the nature of the materials used may contain some minor scratches that will not affect its performance in any way. Scentual Sun is not liable for these imperfections and no refunds, discounts or exchanges will be made.
This is also called Overspray Fog Mist Remover screen
Please call 888-326-9168 for pricing and availability.
Warning: This unit is designed for non-flammable over spray evacuation. Using flammable products of any kind with this unit can result in an explosion causing serious injury or death. Please consult your solution manufacturer for a MSDS (Material Safety Data Sheet) before use.